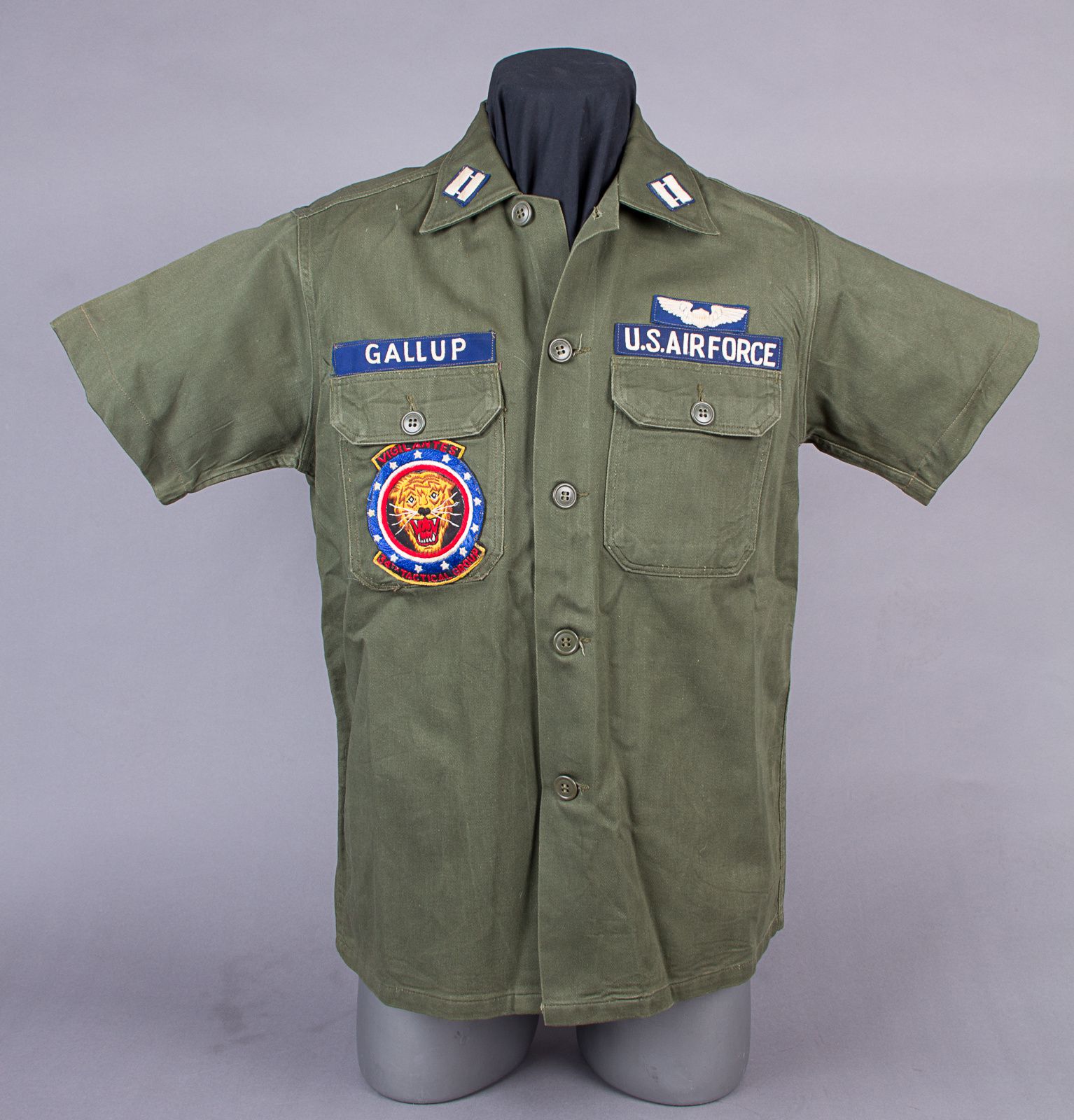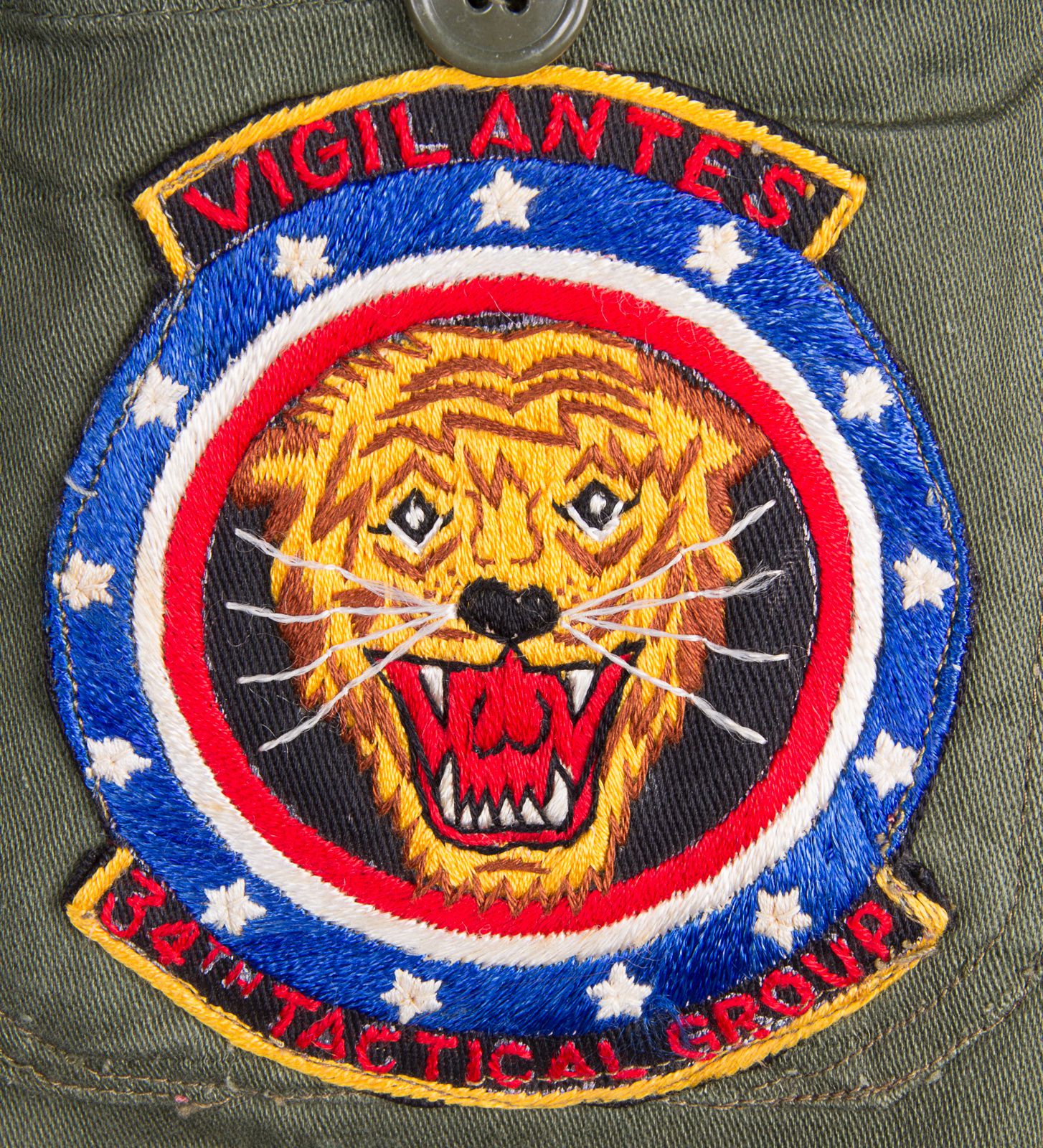 Capt. Gallup's second pattern OG-107 shirt, with the usual shortened sleeves. All patches, including the 34th Tactical Group pocket patch, are Vietnamese hand embroidered.
Here is a small tribute to Robert D. Gallup (25 Aug. 1934 – 16 June 1965).
Robert Gallup graduated from Gorham-Fayette High School with the Class of 52. He received a scholarship to Ohio State University, taking general college courses and R.O.T.C. training. He then entered Montana State University, and during the summer of 1955 he flew helicopters and worked with the Montana State Fire Department. Late in 1956 he was called for service, yet he was allowed one year to finish university.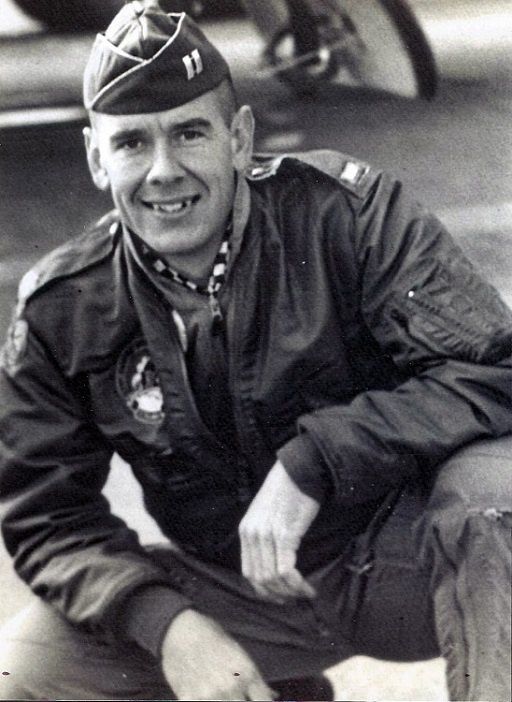 Capt. Robert D. Gallup during a previous assignment. Note that he pinned his captain rank on the cap while his jacket still shows the Lt. rank. Air Force
Upon graduation in 1957, Robert spent the next four years training as a pilot, learning engine planes, air science and finally jet planes. He served at Laredo, Randolph, Lackland, Homestead and Eglin Air Force Bases for various times and purposes. During this time he passed from rank of 2nd Lieutenant to Captain. After reenlisting, Robert spent two years at Truax Field at Madison, Wisconsin flying the F-101 and F-102. He was then assigned to Iceland. Upon return, he was sent to McCord A.F.B. in Washington.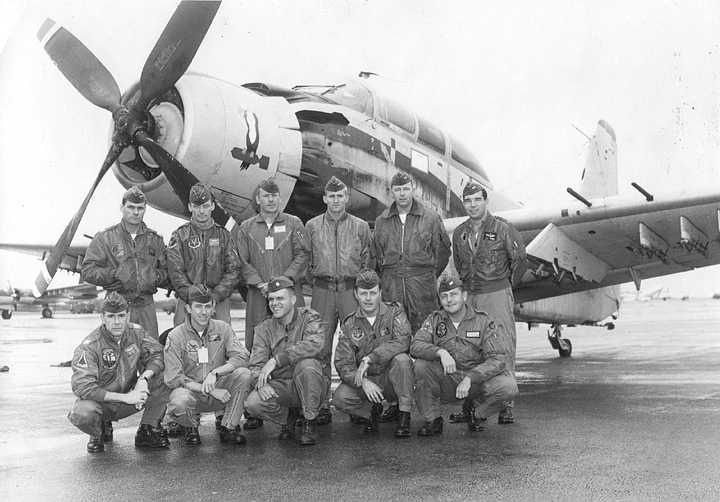 Class Express 10. Skyraider Training at Hurlburt Field, Florida (Eglin Air Force Aux 9). Front row, first on the left. Air Force
In early 1965 he volunteered for duty in Vietnam. After a training through class Express-10 at Hurlburt Field, Capt. Gallup was assigned to the 1st Air Commando Squadron, under the 34th Tactical Group. From Pleiku AB, Capt. Gallup flew the A-1E Skyraider. During one strike sortie, two Skyraiders collided. Robert Gallup managed to bail out of A-1E S/N 52-135040, but his parachute failed to open. The other pilot, John S. Rumph, who was flying aircraft S/N 52-133889, survived the accident.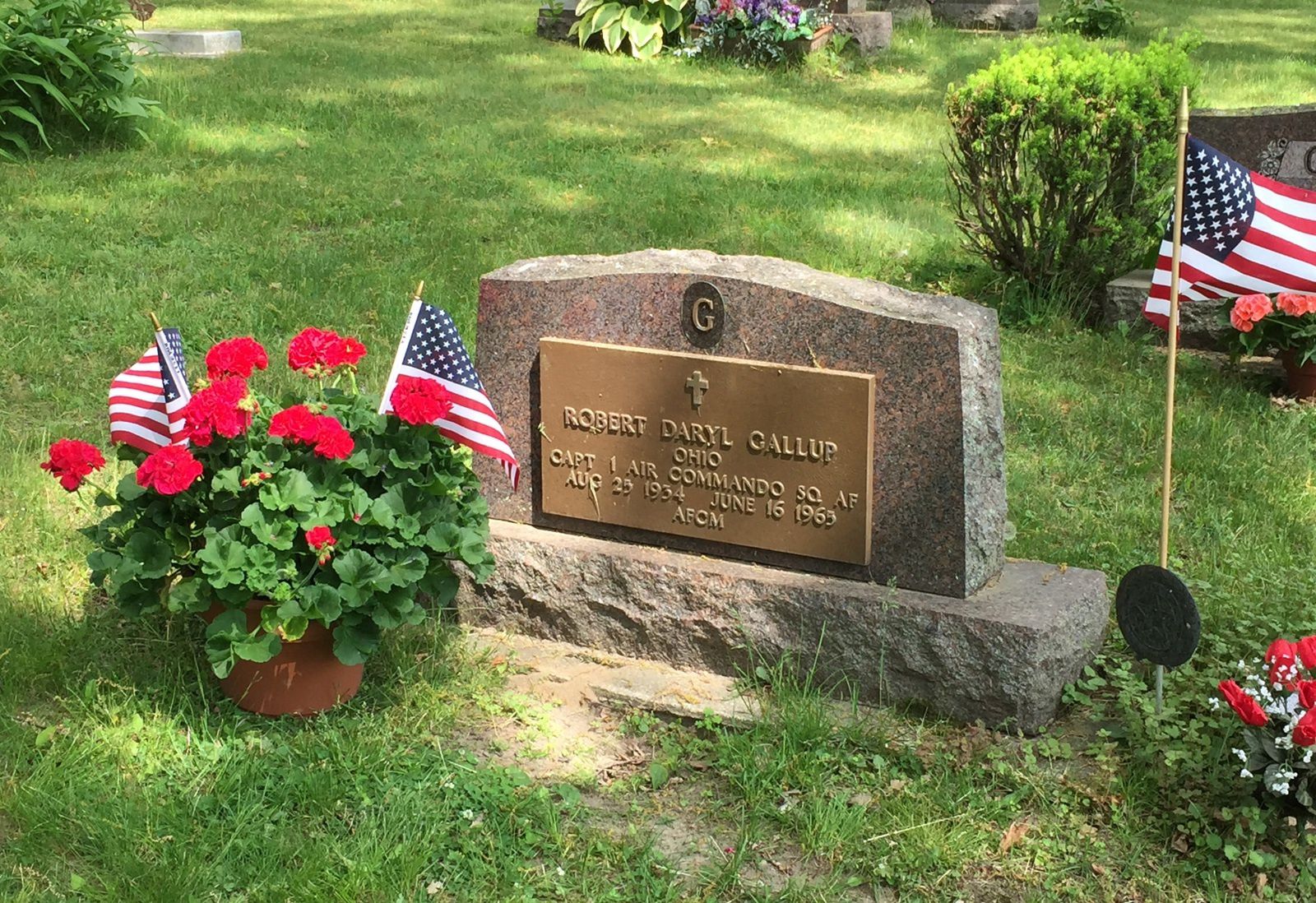 Capt. Gallup's grave in Oak Grove Cemetery, Morenci, Lenawee County, Michigan, USA. Photo by S Szepanski
The OG-107 shirt that started this post was acquired too late to be included in Volume 2 of Yankee Air Pirates. However, the 1st ACS/SOS is covered in detail, with 11 heavily illustrated pages. All other Air Commando and Special Operations Squadrons that served in Southeast Asia are also in the book. Volume 2 is available since December 3rd, 2015, directly from the publisher or on many online platforms.