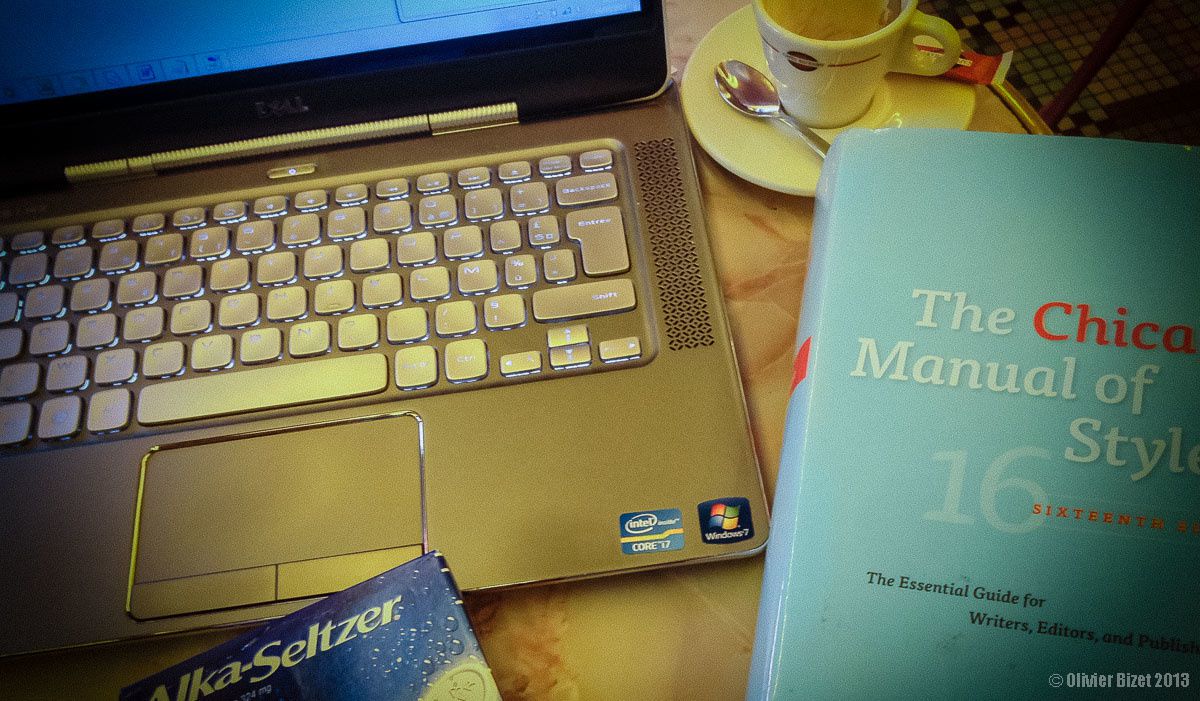 As some of you may have noticed, we are both French. Needless to say, writing a book in English was not exactly a walk in the park!
It would have been much easier to write in French; a publisher in Paris was interested in the project, and was ready to develop an English edition as well. The only problem was, the book had to fit in one single 144-page volume.
So when Schiffer told us they would accept a multi-volume series, we did not hesitate and signed the contract. Then we noticed the small print that said: "All manuscripts must be submitted to the Publisher in American English". Oops.
In order to strengthen our book proposal, we had sent Schiffer a 5-page preview of what the book could look like. These pages had been brilliantly designed by Jean-Ghuislain Lebeau, and the English text had been kindly proofed by our friend Lisa Carucci. But could we hack it for a 320-page book?
The French are notoriously uncomfortable with foreign languages. We learn a primary and a secondary foreign language at junior and high school, three hours a week, and that is basically it.
As a result, most French people have very limited proficiency in English. To make matters worse, the primary language I learnt was German! However, we put our college years to good use to improve our English level. François underwent English studies for four years, and my economic studies included lectures given by American and British teachers . Then our careers allowed us to practice English on a daily basis.
Still, being able to communicate in English did not mean we could write a correct book. Undaunted, we bought a copy of the Chicago Manual of Style, as advised by Schiffer, and started writing. We soon discovered that the main difficulty was agreeing on the style. We both had a different practice of English, and this caused endless Skype discussions between Paris and Bangkok about fascinating topics such as: should we use these or those? On the same day or That same day? Deactivated or inactivated? When we could not find an answer in the Chicago Manual, we shamelessly goggled both expressions and selected the most common one. This process took a considerable amount of time, on top of the research work necessary for the book. Most of the time, we realized that we were both correct, and elected to keep our own styles for the sections we wrote. Attentive readers might be able to differentiate the texts written by François and I.
We had to make tough choices, one the most difficult being the date format. The most common format in American English is month-day-year: January 31, 1968. However, we were not very comfortable with this system, which was not natural for our preformatted French brains! The Chicago Manual stated that the day-month-year format (31 January 1968) "is useful in material that requires many full dates (and standard in British English)". So we adopted this format, which may seem awkward for our American readers, but proved easier to work with. It is used by Shelby Stanton and Robert F. Dorr, to name a few, so we cannot be entirely wrong!
We also want to thank our British friend Patrick Dempsey, who proofed the manuscript on his spare time before we delivered it to Schiffer. It was a huge effort, within very tight deadlines, and Patrick did it with unabated enthusiasm. We owe you a big one my friend!
I am attempting to write this post at a table at Les Deux Moulins, where part of the movie Amélie was shot. From the way the grumpy waitress looks at me, I can tell I have overstayed my welcome! I have ordered only two expressos, which means I shouldn't have stayed more than 20 minutes. So it is time to wrap this up and publish this post, without checking all these English expressions I am not sure of. So be it!