It was not infrequent to find in Vietnam veterans from WWII or Korea. This party suit was ordered from Maharajah in Udorn, by Col. Crow during his November 1970/71 tour.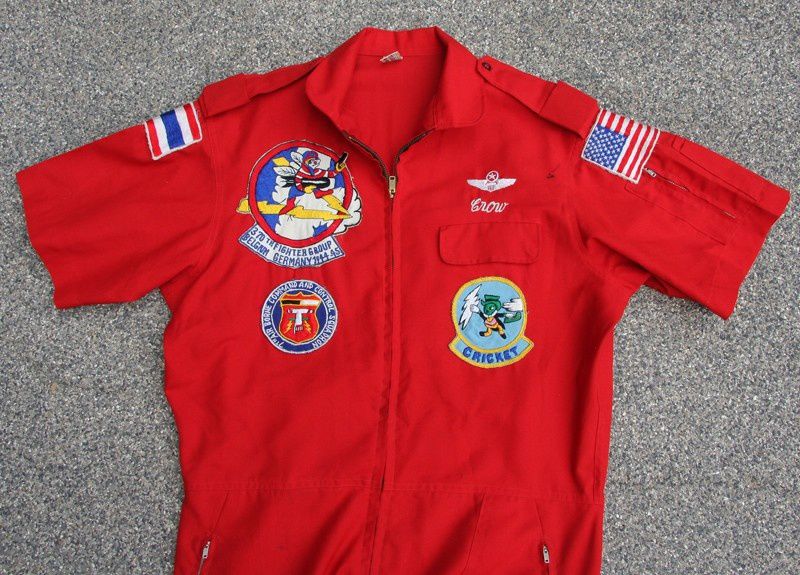 7th ACCS party suit displaying U.S. and Thai flags, unit and call sign patches. Ranks are hidden by shoulder loops.
At the end of WWII, Crow underwent P-39, P-63 and P-38 training before being sent to France on 3 January 1945. There he was assigned to the 485th Fighter Squadron, 370th Fighter Group. His first missions were aboard the P-38 Lightning until the 485th converted to the P-51 Mustang. During his ETO deployment, then Lt. Crow flew 30 combat missions, mostly over Belgium and Germany. He was subsequently awarded several Air Medals.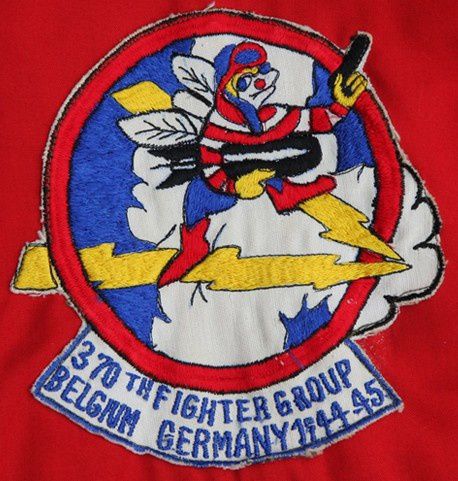 Detail of the probably unique Thai made 370th Fighter Group. The design is actually the one of the 435th Fighter Squadron, Crow's unit back in WWII.
His second combat experience occurred 25 years later, when he was assigned to the 7th Airborne Command & Control Squadron in northern Thailand. There, he flew daytime "Cricket" orbits in the Steel Tiger North and Barrel Roll areas of Laos. He was also appointed as Director of Flight Operations. While fighting in Vietnam, he received the Distinguished Flying Cross and the Bronze Star medal. Col. Crow finally retired on 31 July 1974.
Yankee Air Pirates Volume 1 features 10 pages about the 7th ACCS!